Unfortunately, many employees in the nuclear weapons industry developed serious occupational illnesses as a direct result of their exposure to certain toxic substances. Two critically important federal programs — the Energy Employees Occupational Illness Compensation Program (EEOICPA) and the Radiation Exposure Compensation Act (RECA) — were passed into law by the United States Congress to help provide much needed financial support to affected individuals and their immediate family members.
At United Energy Workers Healthcare and Four Corners Health Care, we are a family-based company that offers free home healthcare services to qualified EEOICPA and RECA beneficiaries. Many people who worked for the Department of Energy (DOE), related contractors, or at other companies in the nuclear weapons industry may be covered by these federal programs. In this article, our team provides an overview of the kind of jobs that most frequently lead to occupational illnesses and EEOICPA/RECA claims.
Many Jobs Related to Nuclear Weapons Production Are Covered
The nuclear weapons industry was, and continues to be, deeply complex. Many different agencies, contractors, and subcontractors are involved in different aspects of the industry. The EEOICPA and RECA provide a path to financial compensation for many different employees and individuals who were, in some manner, employed in the industry. Indeed, under the EEOICPA, there are three different types of employers that are covered by the program:
The Department of Energy (DOE);

Atomic Weapons Employers (AWE); and

Beryllium Vendors.
The Centers for Disease Control and Prevention (CDC) provides a helpful list of all of the different facilities (worksites) that are covered by the EEOICPA. There are 382 of them in total. To help simplify the claims process, the federal government sorts these facilities over five different regions:
Milwaukee (WI);

Southern California;

Western New York;

Oak Ridge (TN); and

Northern California.
Of course, there are a number of different facilities that extend well beyond these core regions. In fact, there are covered worksites in almost every state in the country. The different types of jobs at the facility vary dramatically. In some cases, nuclear weapons scientists, researchers, and mining workers were exposed. Though, so were many other employees, often blue collar employees, such as electricians, factory workers, and truck drivers.
Understanding an EEOICPA Facility and Job Through Typical Examples
One of the best ways to understand the types of facilities that are covered by the EEOICPA is to consider some typical real world examples. One example of an Atomic Weapons Employer (AWE) is American Potash & Chemical, a company based in West Hanover, Massachusetts. From 1959 to 1961, this company conducted uranium metal shaping under a contract obtained from the Department of Energy. The firm employed a wide range of different white collar and blue collar workers.
On the other end of the spectrum, another typical employer that is covered by the EEOICPA is the Ames Laboratory at Iowa State University. Since the development of the Manhattan project, researchers at this facility have been producing pure uranium. Ames Laboratory employed some of the top nuclear researchers in the entire world. The other covered facilities are similarly varied.  
Establishing Covered Employment: EEOICPA Claim Examiner Guidance
Under federal law, the specific job title that a person holds will not necessarily affect their ability to recover financial compensation through an EEOICPA Part B claim or an EEOICPA Part E claim. Instead, the key issue is whether or not they can establish 'covered employment' for the purpose of the benefits they are applying for. What exactly does 'covered employment' mean? As explained in the United States Department of Labor (DOL) compliance manual for EEOICPA claim examiners, applicants for EEOICPA benefits must prove that they:
Were employed at one of the 382 covered facilities;

Worked at the facility for a sufficient amount of time; and

Worked at the facility during the relevant dates.
Claim examiners are explicitly instructed to seek verification of employment. The DOL acknowledges that employment can often be challenging to verify — especially for employees who did not work directly for the federal government. In some cases, records can be difficult to obtain. The law allows claim examiners considerable latitude is assessing relevant evidence.  
Contact Our Home Healthcare Professionals Today
At United Energy Workers Healthcare and Four Corners Health Care, we have providers throughout the country. Our team of highly trained home healthcare professionals is committed to offering superior services at no cost to EEOICPA and RECA beneficiaries. To get more information about what we can do for you, please reach out to us today.
Listen to our clients as they share their experiences in working with United Energy Workers Healthcare.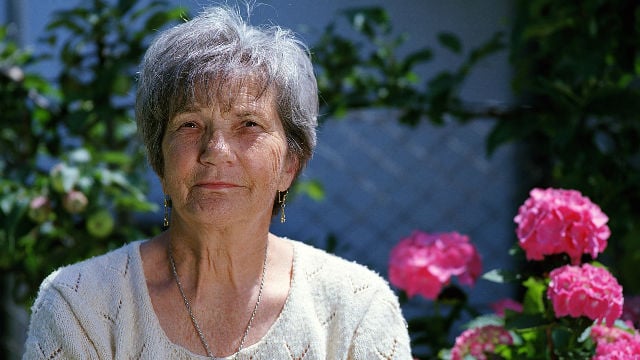 Real stories from real people.
"Who would have ever thought you could stay at home and be a care giver and still get money."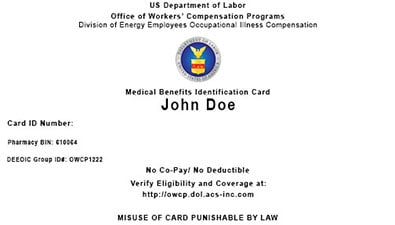 If you already have this card, then you are already approved to receive no-cost medical benefits! Call us to get started today.
In order to be eligible for EEOICPA/RECA benefits, an individual must have been employed at a covered Department of Energy facility, an approved atomic weapons facility, or at a permitted beryllium vendor. An individual must also have one of the covered conditions as a result of exposure to radiation, beryllium, or silica while employed at an accepted facility. In addition, uranium miners, millers, and ore transporters are eligible for benefits if they develop an illness as a result of exposure to toxic substances (such as radiation, chemicals, solvents, acids, and metals) and worked at a facility covered under RECA. Eligibility requirements vary by location and condition.