Hundreds of thousands of American workers helped to protect our country by assisting in the creation and development of its nuclear defense system. Sadly, a significant number of these employees eventually developed serious occupational illnesses after being exposed to toxic substances. To address the problem, the United States Congress passed the Energy Employees Occupational Illness Compensation Program (EEOICPA) into law.
At United Energy Workers Healthcare and Four Corners Health Care, our team offers free home healthcare services to eligible EEOICPA and RECA beneficiaries. Qualified applicants and their loved ones often have questions about what types of medical care and medical services are actually covered by these federal programs. Here, we provide an overview of the medical expenses that can be covered under Part B of the EEOICPA.
What is Part B of the EEOICPA?
As a starting point, it is important to distinguish Part B of the EEOICPA from Part E of the EEOICPA. While these two different programs are often confused and conflated, Part B and Part E are distinct. Under Part B of the EEOICPA, a qualified employee can receive up to $150,000 in financial compensation and full coverage for related medical expenses if:
They have one of the 22 types of cancer listed under the EEOICPA; and

There is at least a 50 percent chance that their cancer is linked to their time working at a covered facility.
Nearly 400 facilities are covered by the EEOICPA, including the Department of Energy (DOE) and Atomic Weapons Employers (AWEs). Even if workers can prove that worked at a covered facility at the appropriate date and that they developed one of the 22 types of listed cancers, they are still required to establish causation.  
In order to determine causation, the United States Department of Labor (DOL) and the National Institute of Occupational Safety and Health (NIOSH) conducts a process that is known as 'dose reconstruction'. Using a number of different factors and complex calculations, they will determine the likelihood that the worker's cancer is actually linked to their time at a covered DOE facility or AWE facility. If the dose reconstruction confirms that there is a 50 percent (or greater) likelihood of causation, then the applicant will qualify for Part B EEOICPA benefits.
An Overview of the Covered Medical Expenses
Beyond the lump sum compensation of $150,000 that can be made available through a Part B claim, eligible workers are also entitled to full medical benefits. After a Part B EEOICPA claim is approved, a worker should receive an official medical card that states that they are covered by the program. Once that EEOICPA card has been issued, all medical care that is reasonably necessary and related to the approved condition should be covered by Part B of the EEOICPA. Under federal regulations, a broad range of different medical care and healthcare services are covered. Among other things, this includes:
Emergency room treatment;

Hospital stays;

Visits to doctors;

Visits to medical specialists;

Prescription drugs;

Medical equipment;

Medical transportation;

Vehicle/housing modifications; and

In-home healthcare.
For an older adult who is dealing with cancer-related to their time working for the Department of Energy or for an Atomic Weapons Employer, getting access to home healthcare services can be life changing. Home healthcare services can be fully personalized to meet the unique needs of the patient. These services not only help to provide much needed safety and protection, but they also help a person live their highest possible quality of life.
Reimbursement for Medical Expenses May Be Available
Under Part B of the EEOICPA, some form of reimbursement for medical expenses that have already been paid out may also be available. Specifically, approved applicants are eligible for reimbursement for medical expenses that were incurred after their initial Part B application was submitted, but before their claim was actually approved by the federal government. It should be noted that the DOL has very strict documentation requirements that must be followed to obtain a reimbursement. If you are considering applying for reimbursement for medical expenses under Part B, please be sure to retain all relevant documents and records.  
Speak to Our EEOICPA Home Healthcare Professionals Today
At United Energy Workers Healthcare and Four Corners Health Care, we are family-based company that is committed to offering the best home healthcare services to those people who are qualified under the EEOICPA. Beneficiaries are entitled to free home healthcare services. To learn more about our team, please reach out to us today.
Listen to our clients as they share their experiences in working with United Energy Workers Healthcare.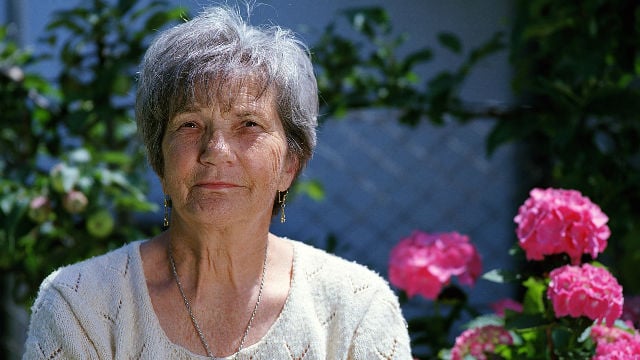 Real stories from real people.
"Who would have ever thought you could stay at home and be a care giver and still get money."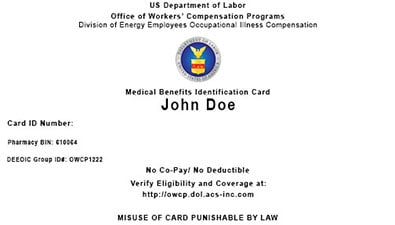 If you already have this card, then you are already approved to receive no-cost medical benefits! Call us to get started today.
In order to be eligible for EEOICPA/RECA benefits, an individual must have been employed at a covered Department of Energy facility, an approved atomic weapons facility, or at a permitted beryllium vendor. An individual must also have one of the covered conditions as a result of exposure to radiation, beryllium, or silica while employed at an accepted facility. In addition, uranium miners, millers, and ore transporters are eligible for benefits if they develop an illness as a result of exposure to toxic substances (such as radiation, chemicals, solvents, acids, and metals) and worked at a facility covered under RECA. Eligibility requirements vary by location and condition.