Home healthcare services and providers are welcome visitors for many people suffering from an occupational disease. Those employees, civilians, and others who were exposed to radiation or dangerous chemicals while working for the DOE and who qualify for benefits under the two congressional actsThe Energy Employees Occupational Illness Compensation Program Act  and/or The Radiation Exposure Compensation Act (RECA) may appreciate the companionship of a nurse or caregiver right there in their home. What's more is that these beneficiaries can receive free EEOICPA and RECA home healthcare, with the frequency of home visits depending on the severity of the condition. In short, our home healthcare professionals will be available to you as often as their services are needed.
Home Healthcare Benefits Under EEOICPA and RECA
Those who are eligible to receive benefits under the EEOICPA and/or RECA programs are those who (generally speaking) have been exposed to radiation from nuclear power plants due to their employment or residence and who developed certain illnesses or conditions related to that radiation exposure. Under the EEOICPA and RECA programs, these benefits may include doctors' visits, inpatient and/or outpatient hospitalization, and other medical costs.
For many EEOICPA and RECA benefit recipients, their benefits also include the costs of home health care provided by nurses or other medical caregivers. Whether these services are required 24 hours a day or only once per week obtaining these services from providers registered with the EEOICPA/RECA programs means that beneficiaries are not required to pay any copay, deductible, or other out-of-pocket expense for these services. United Energy Workers Health offers nurse and doctor home visits as frequently as is necessary.
What if My Home Health Provider is Coming Too Often (or Not Often Enough)?
You are always able to request more frequent visits from our healthcare professionals if you feel you would like to receive more consistent care. You may also request that our nurses and doctors visit you less if you don't need their services as regularly. You have control over the frequency of your visits, and all of them are provided to you free of charge as long as you qualify for EEOICPA and/or RECA benefits.
Requesting Initial Visits
To begin receiving these free home healthcare visits from the licenced and trained healthcare professionals of United Energy Workers Health, you must first qualify for EEOICPA or RECA. Those who have developed a variety of different cancers or lung problems due to their work for the US DOE or any of its subcontracts. Feel free to call if you have been diagnosed with any of our covered conditions to get an initial consultation. You may also call for information about qualifying for EEOICPA or RECA, and we can immediately schedule a home visit if you are already a verified EEOICPA/RECA beneficiary. Get the best free home healthcare services available and call us today at (800) 314-2383.
Listen to our clients as they share their experiences in working with United Energy Workers Healthcare.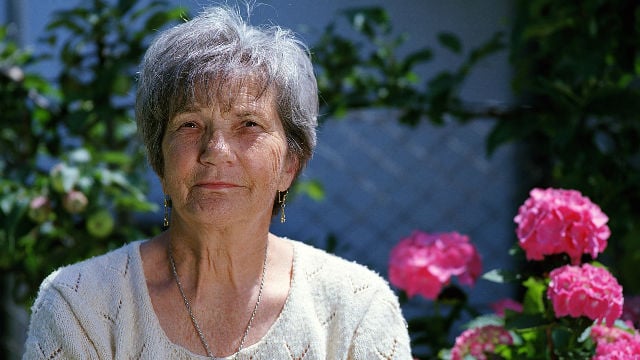 Real stories from real people.
"Who would have ever thought you could stay at home and be a care giver and still get money."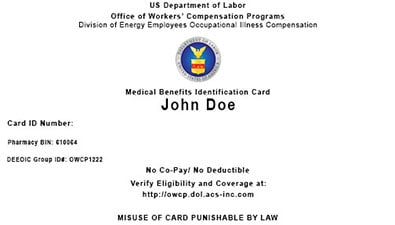 If you already have this card, then you are already approved to receive no-cost medical benefits! Call us to get started today.
In order to be eligible for EEOICPA/RECA benefits, an individual must have been employed at a covered Department of Energy facility, an approved atomic weapons facility, or at a permitted beryllium vendor. An individual must also have one of the covered conditions as a result of exposure to radiation, beryllium, or silica while employed at an accepted facility. In addition, uranium miners, millers, and ore transporters are eligible for benefits if they develop an illness as a result of exposure to toxic substances (such as radiation, chemicals, solvents, acids, and metals) and worked at a facility covered under RECA. Eligibility requirements vary by location and condition.