Those who are beneficiaries under the congressional acts EEOICPA and RECA can receive free home health care in Colorado. United Energy Workers Health has an office in Colorado and helps previous United States energy workers to receive healthcare benefits afforded to them due to occupational illnesses delineated in EEOICPA and RECA. Those who can receive EEOICPA and RECA healthcare benefits from our company generally have terminal cancers or chronic illnesses they contracted because of their employment working with dangerous materials, such as heavy metals and other dangerous substances in mines or refineries. We help Colorado residents diagnosed with these diseases to receive care and treatment to assist with physical therapy and other healthcare-related needs that can take place in the home. If you or a loved one is afflicted with an occupational disease and are living in the state of Colorado, you may qualify for free health care.
We will help you file your EEOICPA and RECA claim
The Energy Employees Occupational Illness Compensation Program Act (EEOICPA) began on July 31, 2001 with the Department of Labor's implementation of Part B; Part E implementation began on October 28, 2004. If you qualify for EEOICPA and RECA benefits, we can help you with the paperwork. Our professional Colorado staff will sit down with you and go over all the details of your claim. How do you know if you qualify? To qualify, the patient must have been diagnosed with cancer or any other illness caused by chemicals or toxins and who worked at one of the covered Department of Energy facilities. You can also file a claim if you are a survivor of an employee who qualified.  A survivor is defined as a worker who died of cancer or chemically caused illness and worked at one of the covered DOE facilities. Filing a claim on behalf of yourself or a family member is a process we will guide you through. If a professional advocate is needed, we can direct you to towards some recommendations.
Free health care for elderly workers
One of the benefits we offer is free healthcare for nuclear workers who were employed in the mid 20th century and became ill as the result of radiation exposure. Due to insufficient knowledge about the dangers caused because of the exposure to dangerous chemicals and heavy metals, workers were put at great risk and suffered many detrimental health challenges. The Energy Employees Occupational Illness Compensation Program Act (EEOICPA) was put in place to give workers who were put through these harsh conditions, thus resulting in life altering illnesses and diseases, free medical benefits, specialized care and benefits for the remainder of their lives. These medical caregivers have specific training to assist in the individual needs of the elderly as well as those affected by radiation related illnesses. Other non-medical services are offered as well such as meal preparation, grocery shopping, housekeeping and more.
EEOICPA and RECA benefits in Colorado
Filing a claim is not as hard as it may sound and our professional staff will make it as easy for you as we can. We look forward to helping you through this process to get you compensation once your claim has been approved. Contact our office today to get the process started.
Area Director: John Esquibel
10190 Bannock St, Suite 108
Northglen, CO
307-840-1414
john.esquibel@UEWHealth.com
Listen to our clients as they share their experiences in working with United Energy Workers Healthcare.
Real stories from real people.
"Who would have ever thought you could stay at home and be a care giver and still get money."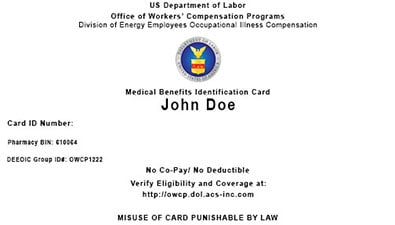 If you already have this card, then you are already approved to receive no-cost medical benefits! Call us to get started today.
In order to be eligible for EEOICPA/RECA benefits, an individual must have been employed at a covered Department of Energy facility, an approved atomic weapons facility, or at a permitted beryllium vendor. An individual must also have one of the covered conditions as a result of exposure to radiation, beryllium, or silica while employed at an accepted facility. In addition, uranium miners, millers, and ore transporters are eligible for benefits if they develop an illness as a result of exposure to toxic substances (such as radiation, chemicals, solvents, acids, and metals) and worked at a facility covered under RECA. Eligibility requirements vary by location and condition.